NEO α (Alpha)
Functional overview
XMOS 216+ESS9038Pro DAC hardware decoding,DSD512/PCM768KHz 32Bit and MQA.
Dual HDMI audio and video separation output, multi-channel DSD (2.0/5.1CH) playback and DSD Native output.
430 standard dimension, excellent texture with all-aluminum alloy reinforced chassis and shockproof foot pad.
5-inch OLED high-definition touch screen will display general settings, music playback status and touch control.
RTD1619DR SOC with 4K@60Hz, Dolby Vision/HDR10+.
4G DDR4 RAM and 32G eMMC storage;512G SSD for local media storage.
Internal 3.5"/2.5" HDD bay, up to 18T large capacity hard drive (hard drive isn't included).
Dual power supplies, linear power supply and digital power supply.
4K 60Hz, HDR (HDR10/HLG/HDR10+/Dolby Vision), 12Bit, BT.2020 wide color range and YCbCr 4:4:4.
Support DSD (SACD ISO, DSF, DFF), WAV, FLAC, APE lossless audio formats and multi-sampling seamless playback.
High-performance Bluetooth decoding with Qualcomm flagship QCC5125 module, support APTX HD, LDAC audio reception.
6.35 headphone jack, two gain modes switching, the internal headphone amp can drive 16-300 Ω high impedance headphone.
Multi-stage operation amplifier, fully balanced circuit design, XLR balanced and RCA output.
Support asynchronous USB DAC input, monitor-level sound card performance, compatible with Windows, MAC, IOS, Android.
XMOS XU216, MQA full decoding and dual femtosecond active crystal oscillator.
Rigorous circuit design, manufacturing process and selected components.
Based on Linux video decoding and output framework to output image quality with high reproduction.
Support almost all Dolby vision formats and complete processing for stunning image quality.
VS10 engine supports content mapping and colors similar with Dolby vision, the image quality is greatly improved.
Poster wall management system supports automatic intelligent scanning, custom classification and movie info management.
Gigabit wired network and 2.4G+5G dual-band 802.11 AC 2T2R 867Mbps WiFi.
CD-ROM playback and CD Ripping are supported. It can connect with BD (non-encrypted)/CD discs.
New Music Player supports personalized configuration, lyrics matching and track data matching.
Support streaming services AirPlay, DLNA, Spotify and Roon Ready etc.
Support Optical and Coaxial audio input and USB Audio Native, Optical, HDMI digital audio bit-perfect output.
Support multiple network protocols such as NFS, SMB v1/v2/v3,
UPnP and Web DAV.
SMB sharing allow to transmit local media files
stored in Zidoo hard drive to other devices.

Minimalist Appearance and Extreme Design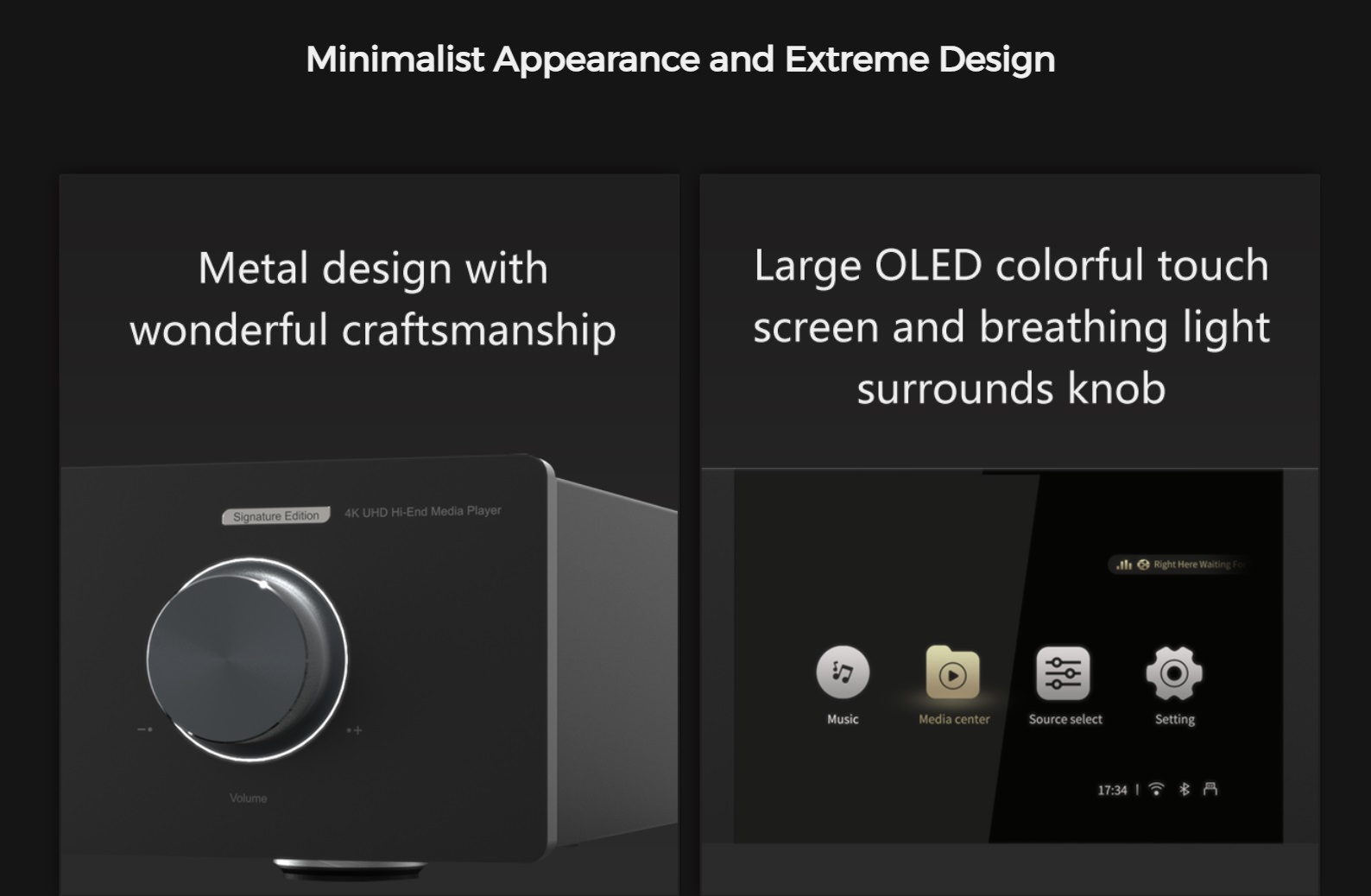 Powerful Processor and Large Storage
RTD1619DR hexa-core 64-bit A55 processor and 64 bit bandwidth with larger processing capability have provided stable and efficient computing for the system. 4G DDR4 RAM and 32GB eMMC storage have greatly meet the demand to install massive applications
512G Internal SSD
NEO α(Alpha) is equipped with a 512G enterprise SSD for local music playback. High-quality digital music files can be easily stored, data reading is stable and fast. Heating and noise problem of traditional mechanical hard disk can be avoided
ESS9038Pro DAC
ESS9038 Pro DAC chip is the core component of NEO α(Alpha) audio decoding. -122db THD+N and 140db dynamic range are benchmark indicators among the industry. Support up to DSD512 and PCM768@32bit, both performance and sound quality can meet the demand of audiophiles
XMOS Audio Processor
Octa-core XMOS X216 audio processor can provide excellent digital audio processing with high-definition decoding, low latency, low jitter, and high flexibility. It also supports asynchronous transmission, PCM 768KHz, DSD 512 and 8x MQA decoding
Multichannel DSD Processing Technology
Equipped with a tailored multichannel DSD processing chip and clock reconstruction technology Just for playing multichannel master recording music Both multichannel DTS and DSD are supported It is the first time to achieve DSD Native 5.1 lossless audio output from HDMI DSD port among the industry

Dual Power Supplies
With separate digital and analog power supplies to eliminate interference and improve the sound purity Linear power supply designed for analog audio circuits which is composed of multi-winding large toroidal transformers
While switching power supply is for digital circuits with lower ripple and magnetic leakage interference
With the patented technology of smart input voltage switching for linear power supply it is compatible with voltages worldwide without flipping the switch
Double HDMI for Audio and Video Separation
There are 2 HDMI ports for NEO α(Alpha)
HDMI 2.0a main output can output audio and video signals to 4K TV, projectors and A/V receiver
The other HDMI port(Audio/DSD) is designed to output audio signal only
It is not only compatible with HDMI 1.4 A/V receiver but also can output DSD Native 5.1
With independent high-precision clocks and thus better audio and video performance
Multiple Digital Inputs
Multiple ports like USB DAC, Optical and Coaxial can be connected with various devices (computer, mobile phone, streamer, set-top box, CD player) to convert digital signal to analog signal by ESS9038pro DAC. No matter which way you use to play music, you will enjoy excellent sound quality
Headphone Amp Output
6.35 headphone jack brings great convenience for headphone enthusiasts. The amp circuit adopts low ripple power supply, multi-level signal buffering, voltage and current staged amplifying processing, so that it has low noise, high current and large thrust. Two gain modes adjustment is to adapt different headphone in 16~300 ohm impedance range
Balanced Circuit and Professional Preamp
As an all-in-one preamp, the volume can be adjusted easily by volume knob, and it can connect with power amp and active monitor speakers. Both XLR and RCA signals are processed by balanced circuit with good noise immunity. Multi-stage operational amplifier buffering and amplification, unique low-distortion filter design and independent signal loop have greatly improve channel separation, maximize the dynamic range and sound integrity
Featured Audio Components
In order to obtain audio indicators and good sound quality, both circuit design and materials are rigorous, such as immersion gold PCB and anti-interference wiring. Audio components like 6pcs of operational amplifier, OMRON relay, WIMA and ELNA resistors are carefully chosen
MQA
MQA (Master Quality Authenticated) is an award-winning British technology that delivers the sound of the original master recording
The master MQA file is fully authenticated and is small enough to stream or download
NEO α(Alpha) adopts MQA technology to receive and decode MQA audio and provide master-level sound
Visit mqa.co.uk for more information
MQA and the Sound Wave Device are registered trade marks of MQA Limited © 2016
Master Recording Music Playback
With top hardware and advanced decoding algorithm
NEO α(Alpha) can play music from different storage devices like hard drive/computer/NAS/network disk
Supporting master recording files (SACD ISO/DFF/DSF/DSD) and MQA and ordinary CD formats (FLAC, WAV, APE, DTS etc)
CUE track and gapless playback are also available
Intelligent Music Library
NEO α(Alpha) is good at managing music resource
Music files from network drives and local hard drive can be added conveniently then generating exclusive music database
Manage music easily and enjoy lossless music as you wish
Music Streaming Services
Music can be pushed from music apps installed in mobile phone, tablet and PC to NEO α(Alpha) via Airplay and DLNA protocols. Digital streaming service Spotify and Roon Ready are also available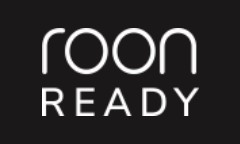 Roon is an incredibly rich and engaging way to browse and organize your music. It runs on most Mac, Windows, and Linux PCs, or on other products which include Roon Core. Being Roon Ready means that ZIDOO network players transparently discover and connect to Roon without any configuration, and bit-perfect audio is delivered from Roon to your network player. Together, Roon and ZIDOO deliver the power, flexibility, and performance of networked audio, with the easiest setup and highest reliability available.
Learn more about Roon partner programs
Lossless Bluetooth Audio
NEO α(Alpha) has a internal lossless Bluetooth receiver with Qualcomm flagship QCC5125 module. Supporting aptX/aptX LL/aptX HD/LDAC audio transmission to quick connect with mobile phone and tablet and enjoy CD quality music
CD Ripping and Playback
NEO α(Alpha) can play CD discs (DTS CD and MQA) by connecting with CD-ROM. CD ripping is based on ZIDOO HASH algorithm, album name and track names can be ripped losslessly, detailed album and artists info can be generated automatically
4K UHD Resolution Technology
NEO α(Alpha) video decoding is based on Linux and supports almost all video decoding including 4K Dolby Vision and HDR10+. The output up tot 3840 x 2160 60Hz, HDR (Dolby Vision, HDR10+, HDR10, HLG), 12bit and BT.2020 wide color range
Video Decoding and Output Based on Linux Framework
Based on Linux video decoding and output framework, NEO α(Alpha) has less data loss and image quality with high reproduction. Clear voices and vivid images bring us excellent home theater experience
Dolby Vision
Dolby Vision dynamic metadata processing technology will output luminance and color info frame by frame
Shadows are darker while highlights are brighter
Even in the dark and weak-light environment, it can also display the best visual effect
Dolby Vision VS10 Engine
Dolby Vision VS10 engine can convert HDR to SDR and SDR to HDR. The image quality from NEO α(Alpha) VS10 engine is better than any display device(HDR, SDR) for any files (Dolby Vision, HDR and SDR)
HDR Technology
NEO α(Alpha) supports HDR10, HLG and also HDR10+
The peak luminance of HDR10+ is up to 4000nits
Dynamic metadata is processed and output accurately frame by frame
That is, image color and luminance level is obtained frame by frame and scene by scene

10Bit/12Bit Color Depth
The powerful image processor supports 10/12Bit processing and output, which provides rich colors and natural color transition, color banding effect has been effectively avoided. BT.2020 wide color range brings bright image color and good image space
Accurate Resolution and Frame Rate
Mainstream movies are shot at the frame rate 23.976 Hz. Generally it has been converted to 24Hz for media players on the market, ZIDOO media players can output accurate resolution and frame rate (23.976 Hz and 59.94 Hz)
Network Protocols
NEO α(Alpha) supports a variety of network services like NFS, SMB v1/v2/v3, UPnP and Web DAV
Media from NAS or network drives can be accessed efficiently via Gigabit LAN even high bit-rate 4K Blu-ray files can be played smoothly
SMB sharing function can share media file stored in hard drive to other devices or computers
Mobile Phone and iPad Control
NEO α(Alpha) Mobile phone and iPad control APP will display Poster Wall, Music Player and system setting. Program search and system setting can be done in the background without affecting movie playback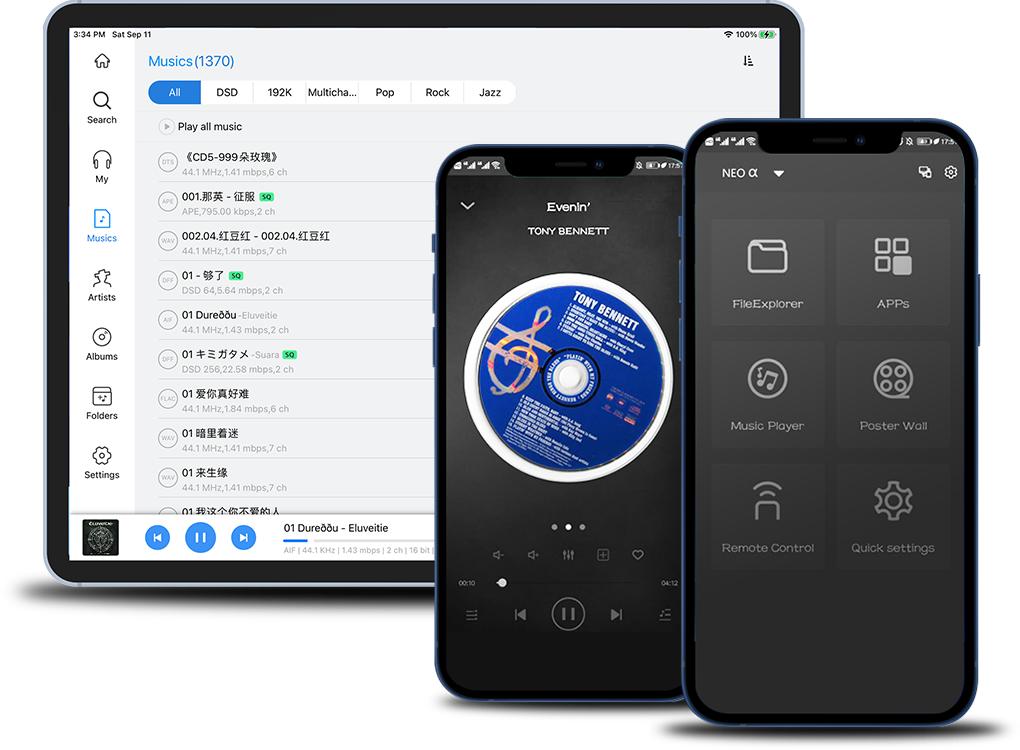 Smart Home Control Protocols
NEO α(Alpha) can be integrated into mainstream home control system due to diverse smart control ports, such as IR, RS232, HDMI CEC, HTTP(WOL) etc