KEN KREISEL KS500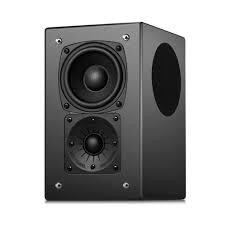 WhatsApp for better pricing 019-3899633 (Mary)
The KS500 is the surround speaker companion of the K500. Utilizing Ken Kreisel invented tripole design, KS500 radiates sound three-way. This 180-degree arrangement produces a full immersion sound even in small spaces. The results are excellent ambient effects and realistic rear presentation and perfect for Dolby Atmos and DTS:X surround sound.
KS500 can operate in three modes: TriFx™(3D Tripole Sound), Dipole(sound from the side only), and Direct Radiator(sound from the front only). You can select these modes by inserting or removing a jumper on the back of the speaker. Ken Kreisel recommends that most users set the speaker at the TriFX™ to obtain the broadest possible surround listening sweet spot with pinpoint location accuracy.
KS500 has one 27mm pro tube tweeter, one 4" high sensitivity midrange driver on the front, and two 3" full-range drivers on the side.