KEN KREISEL K500RC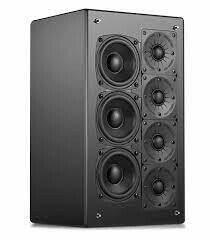 WhatsApp for better pricing 019-3899633 (Mary)
With three K500s at the helm of your home theatre system, that end-of-the-world apocalypse you're watching will sound like a reality. "Effortless" is highly understating the K500. Many home theatre speaker systems end up sounding "edgy" or "rough" because the loudspeakers used just can't handle the signal they've been given. High quality drivers reduce this issue, and placing a number of them in a line-array eliminates it. All you have to do is sit back and enjoy the movie, safe in the knowledge the K500 will handle anything you throw at it.
But they're not only masters of high output and dynamism. They're just as equally capable with more gentle material too, reproducing the most subtle of sounds with delicacy you'd expect from a high-end hifi loudspeaker.
Three of these can easily be wall mounted behind an acoustically transparent projector screen for the ultimate experience.
sealed cabinet
4x 27mm HF units
3x 4" midrange units
phase focused crossover
1200Hz crossover point
65Hz-30kHz (+/-2dB)
87dB sensitivity
4ohm impedance
25-300w amp recommendation
W 206mm x H 406mm x D 200mm
3 year warranty
available in matte black