KEN KREISEL DXD-300A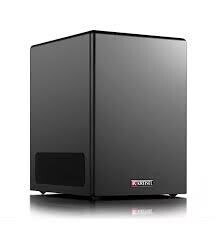 WhatsApp for better pricing 019-3899633 (Mary)
Ken Kreisel DXD-300 Subwooofer
Ken Kreisel invented the "self powered subwoofer" (now referred to as the "active subwoofer") in 1977.
The DXD-300 is the culmination of decades of research and development, pushing the boundaries of subwoofer design to produce the most accurate, natural sounding subwoofers in the world - so good they're used in studios worldwide.
The DXD-300 home theatre subwoofer uses the same quality components as the range-topping DXD-1000, but presented in a smaller, room friendly form factor for the average household, retaining the same speed and agility of its bigger brothers. Ideal for those wanting high quality bass for music or movies, but without the wardrobes.
The 480mm high, 400mm wide, and 350mm deep matte finish cabinet houses a long-throw 12" bass driver driven by a cool running Class D amplifier, producing 300 watts of continuous output in total.
As with all Ken Kreisel designed subwoofers, the DXD300 is a sealed design, ensuring the fastest possible transient response, as well as articulation and texture that's just not possible with a ported subwoofer. This gives the best possible experience with music as well as movies.
Its sealed aspect also makes it easier to successfully incorporate it in the average room, where ports take more care in correct placement to avoid issues.
what makes Ken Kreisel's subwoofers be so competitive?
For one thing, there's no excess of exotic cabinet materials in order to make the design look more expensive than it is. The cabinet is there to perform a function - outside of that function, any amount of money can be spent to "dress it up". The majority of the budget of a Ken Kreisel subwoofer concentrates on the most important aspects first, such as the drivers and electronics.
There's also no "over-engineered" bass drivers with massive roll surrounds and magnets the size of a small family car. The lightweight drivers of a Ken Kreisel subwoofer are designed in such a way that they do not need over-sized magnets in order to keep them under control - which partially explains the level of speed and detail a Ken Kreisel subwoofer is capable of.