ACT 818 Digital Wideband Half-U Wireless Microphone System
Features:
The ACT-818 is a 1/2U single channel rack-mountable receiver with metal chassis.
Full-color VFD (vacuum fluorescent display) for clear viewing of all parameters. All controls are intuitive and easily accessible, allowing for quick and easy system setup via a single rotary control.
Enhanced RF circuitry improves anti-interference characteristics and system compatibility with 64 MHz wide bandwidth allows more interference-free channels to be selected.
New digital diversity receiving technology eliminates signal dropout and enhances receiving range.
Full-Range sound quality won't be changed by the strength of RF signals or operation distance.
Digitally-processed RF circuitry and DigitnamicPlus™ technology eliminates compander noise, assuring a wireless sound quality that easily rivals cable transmission.
Improved proprietary Audio A/D Converter provides a true dynamic range of 115 dBA, T.H.D. < 0.03% at 1 kHz with < 2.7 ms latency
SPDIF Digital Audio Interface facilitates a direct connection to digital mixing consoles and transmits signal without distortion, ensuring a stable S/N ratio which will not deteriorate in long distance transmission.
Proprietary 256-bit encryption, provides secure audio transmission, preventing unauthorized listening.
10 built-in SmartEQ™ presets and user-defined microphone capsule equalization allows faithful sound reproduction to suit artists' preferences.
10 built-in digital anti-feedback SmartEQ™ presets minimize feedback effectively without sacrificing sound quality.
Specifications:
Overall System
Frequency Range
UHF 480 – 960 MHz (country dependent)
Bandwidth
64 MHz
Channel Grid
25 kHz
Channel Set-up
Scan & ACT sync
Audio Sampling
24-bit / 44.1 kHz
Audio Frequency Response
20 Hz – 20 kHz (-2 dB)
Encryption
256 bit
Audio Compression
2nd generation DSP inertial coding
Latency
2.7 ms
S/N Ratio (analog output)
> 115 dB(A)
T.H.D.
< 0.03% @ 1 kHz
Receiver
Chassis / Channel
EIA Standard 19″ 1/2U, Single
Sensitivity
12 dBμV at S/N ≒ 118 dBA (D)
Image & Spurious Rejection
> 85 dB
Receiving Mode
Digital Diversity
Audio Output
Balanced XLR , Unbalanced 6.3 mm (1/4 ")
Analog Output Switch
Mic / Line
Digital Audio Interface
AES3id output. BNC female
Digital Equalizer
10 built-in SmartEQ™ & 10 built-in digital anti-feedback SmartEQ™
PC Interface
USB or RS-232 interface. Proprietary MIPRO ACT-BUS
Display
Full-color VFD
Battery Meter
Transmitter battery status
Antenna Input
2 × 50Ω TNC female connector
Power Supply
External AC switching power
Dimensions (W × H × D)
210 × 44 × 230 mm / 8.3 × 1.7 × 9 "
Weight
Approx. 1.1 kg / 2.4 lbs
Operating Temperature
-10 – +60℃
ACT 80H Digital Wideband Wireless Microphone
Features:
Innovatively designed housing combines aesthetics and ergonomic style.
Standard champagne-color housing. Optional custom-made colors are available.
Patented design of the integrated grille and battery housing make it easy to unscrew the grille to open the battery compartment and install 2 AA or rechargeable batteries.
The unique flat top multi-layered steel grille for condenser capsules and round top for dynamic capsules protect the capsule against impact, rolling and pop noise. The upper grille is able to be detached easily for cleaning and hygiene practices.
Patented capsule suspension design virtually eliminates vibration and handling noises.
Interchangeable capsule module with premium condenser or dynamic options for easy and fast changeovers.
Condenser capsule exhibits high fidelity, wide dynamic range, fast transient responses, good feedback rejection, accurate sound image characteristics, transparent sound quality, and withstands maximum SPL.
Backlit LCD displays frequency band, group, channel, battery status, encryption status, RF and audio levels.
The bottom housing with built-in high-efficiency antenna features power switch, mute and setup buttons for programmable gain, limiter, low cut and RF output power.
Patented end-cap cover with color-coded channel identification clips. Detach the end-cap cover for parameters set-up. Reversible end-cap allows shielding of power on/off or mute switches during performance.
Three selectable mute settings: Auto, Manual & Disabled. "Auto" mute activates automatically when handheld transmitter points down towards the ground.
Three selectable gain settings: 0 dB (same as microphone sensitivity), +3 dB, +6 dB.
An interference-free channel can be synchronized automatically and quickly without error by stable PLL circuit and MIPRO's patented ACT™ sync function.
Two selectable transmitter output power settings: HI (high-power) & LOW (low-power)
Specifications:
| | |
| --- | --- |
| Frequency Range | UHF 480 – 960 MHz (country dependent) |
| Bandwidth | 64 MHz |
| Channel Set-Up | ACT Sync |
| RF Output Power | 10 mW / 50 mW (switchable) |
| Spurious Emission | ≦ -60 dBc |
| Oscillation Mode | PLL Synthesized |
| Frequency Stability | ≦ ±0.005% (-10 – +60℃) |
| Modulation Type | New digital modulation |
| Audio Compression | 2nd generation DSP Inertial coding |
| LCD Display | Group, Channel, Frequency, AF gain, Low-cut, Limiter, Encryption status, RF power, Mute mode, Battery status & Error codes |
| Gain Setting | +6dB, +3dB, 0dB (3 settings). 0dB=microphone sensitivity |
| Battery Type | 2 AA alkaline |
| Operating Time | Min. 12 hours (Low Power) |
| Current Consumption | High Power: approx. 125 mA; Low Power: approx. 100 mA |
| Dimensions (Ø × L) | 51 × 258 mm / 2 × 10.1 " |
| Net Weight | Approx. 323 g / 11.4 oz |
ACT 80T Digital Wideband Wireless Transmitter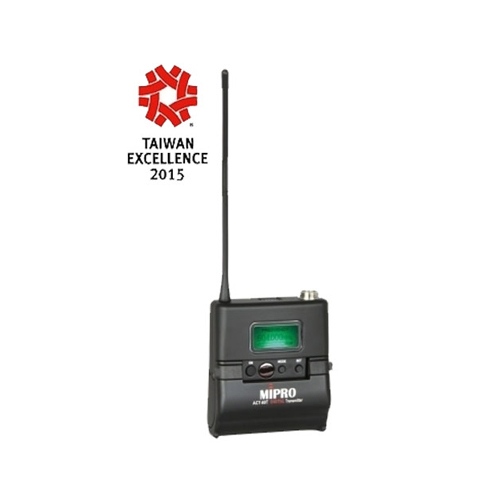 Features:
Ultra slim bodypack transmitter with sturdy magnesium alloy housing.
On the top features mute switch, mini-XLR connector and antenna.
Backlit LCD displays all operational parameter information.
Innovatively designed battery cover allows easy access to operate buttons and prevents accidental operation.
Mute button with remote-control jack for easy activation of mute function.
Stable PLL circuit. Automatically synchronized with the receiver's frequency by MIPRO's patented ACT™ function.
Selection of polarization for audio input to match capsules of different polarizations.
Six selectable gain settings.
Mini-XLR input with secure screw lock connector for lavaliere / headworn mics and guitar.
Adjustable belt clip allows wearing transmitter in up or down position.
2 AA or rechargeable batteries provide long operation time up to 12 hours.
Specifications:
| | |
| --- | --- |
| Frequency Range | UHF 480 – 960 MHz (country dependent) |
| Bandwidth | 64 MHz |
| Channel Set-Up | ACT Sync |
| RF Output Power | 10 mW / 50 mW (switchable) |
| Spurious Emission | ≦ -60 dBc |
| Oscillation Mode | PLL Synthesized |
| Frequency Stability | ≦ ±0.005% (-10 – +60℃) |
| Modulation Type | New digital modulation |
| Audio Compression | 2nd generation DSP Inertial coding |
| LCD Display | Group, Channel, Frequency, AF gain, Low-cut, Limiter, Encryption status, RF power, Phase, Lock status, Mute mode, Battery status & Error codes |
| Gain Setting | +18 dB, +12 dB, +6 dB, 0 dB, -6 dB, -12dB (6 settings). 0 dB = microphone sensitivity |
| Mute Connector | Optional MJ-70 remote mute switch |
| Battery Type | 2 AA alkaline |
| Operating Time | Min. 12 hours (Low Power) |
| Current Consumption | High Power: approx. 125 mA; Low Power: approx. 100 mA |
| Dimensions (W × H × D) | 63 × 70 × 25 mm / 2.5 × 2.7 × 1.0 " |
| Net Weight | Approx. 81 g / 2.9 oz |