ACT-24TC Rechargeable Digital Wideband Bodypack Transmitter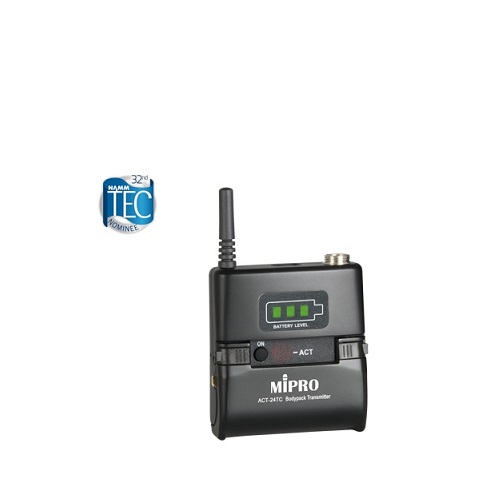 Features:
Miniature, sturdy plastic compact design.
3 LEDs indicate battery status and turn to red to indicate low battery.
Unique battery cover design provides easy access to operational controls and protects against accidental change of settings.
LED in the mute/AF button is lit or off to indicate AF status.
Connector for optional MJ-70 remote mute switch cable.
One-touch ACT syncs the transmitter and receiver frequency automatically.
Mini-XLR input with secure screw lock connector for lavaliere / headworn mics and guitar.
Transmitter has high-efficiency circuitry design. The included single rechargeable lithium battery can be easily removed or interchanged for charging. The intelligent battery charger maintains a high charge capacity for up to 600 charge cycles for cost saving and is environmentally friendly.
Specifications:
Frequency Range
 2.4 ~ 2.4835 GHz
Channel Set-Up
ACT Sync
RF Output Power
2 mW / 10 mW switchable (country dependent)
Max. Audio Input
6.5 dBV
Impedance
1.0 M Ω
Mute Connector
Optional MJ-70 remote mute switch
Battery Meter
4-level green / red LED display
Battery Type
1 x ICR-18500 rechargeable lithium battery
Operating Time
A 25-minute fast charge provides up to 1 hour operation. Minimum 10 hours of operation per 4-hour full charge (depending on the battery quality).
Dimensions (W× H × D)
63 × 70 × 25 mm / 2.5 × 2.8 × 1 "
Net Weight
Approx. 66 g / 2.3 oz